Pagi tadi adalah hari membersih rumah sedunia – oh my room only. Hehe.
After done with floor sweeping, I tiba-tiba saw my sister holding a pail with waters inside to her room.
"Mau lap cermin", she said. Turus hati saya berbunga-bunga.
"Lepas siap di bilik ko, ko rajin-rajinlah lap cermin bilik saya pula." Saya bilang. Inda malu kan.
Dalam 15 minit dia keluar dari bilik dia.
"Kau minta tulung lap cermin kah tu?"
"Iya, hehehe."
Then, dengan penuh sukacitanya saya memindahkan tilam dan bantal2 saya ke tempat yang lain (still inside the room – saya tidak punya katil ya), so my sister has enough space to do the window wiping.
While si adik doing her job, saya pula ambil gambar.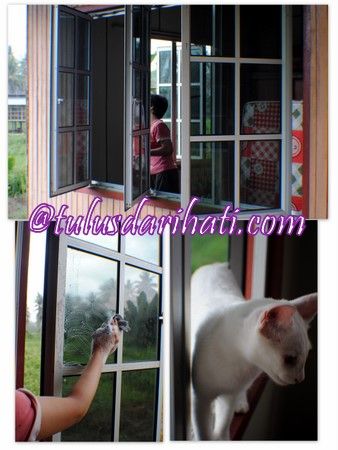 Si sister dengan rajinnya mengelap cermin. Si Putih pula sedang mengacau.
saya ada new hair style. Sangat pendek..boleh kasi pacak-pacak itu rambut.