Yes, I am slow and less active in blogging lately. Its like I am losing my passion in blogging right? I don't know. Maybe yes, maybe not.
Anyway to those who are wonder why i am so slow or seldom in blogging atmosphere nowadays, here is my best answer:
I am so into reading activity lately and I could say almost 3/4 of my spare time filled with reading novels. Sebab itu tidak ada masa special untuk blogging. Hehe. Early of this month I had bought a novel by Susan Lewis titled No Turning Back and I had finished it less than 5 days. The following week, I had bought 2 new books and I am in eagerness mood to finish both of them.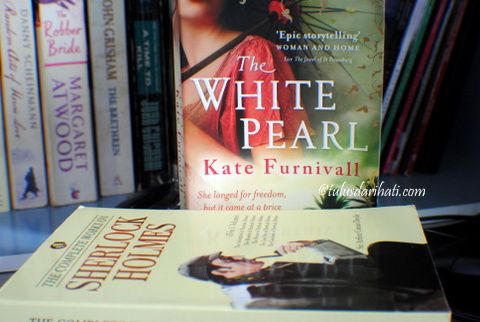 My new reading collections that I had bought at Popular Bookstore last week. A Novel by Kate Furnivall and a complete works on Sherlock Holmes (siapa yang suka siri penyiasatan Sherlock Holmes patut beli buku ini.
)
Currently I am reading The White Pearl a new novel by Kate Furnivall and so far I love the story line. The story based in Malaya – Singapore before and during World War 2. I think the author made a huge research on this novel. This is not my first novel of Kate Furnivall. In 2008, I had read The Russian Concubine and the novel was great. Yes, Kate Furnivall is a wonderful author.
By the way, the school holiday is just around the corner and i am actually really looking forward for it. Banyak plan for this holiday.
Okay that all and Happy Wednesday to all of you. Oh no Wordless Wednesday for today.