Okay, Okay.. lets look what we got here. Ya, this is my working area at home. Soooo messy right? Ya, saya pun terkejut when I'm done with my "marking exam papers" early  this morning (2.31am) dan nampak meja saya sangatlah serabut. Macam tongkang pecah! Tapi bagus juga, ada idea terus for Blogging and of course for WW segment (tapi ini bukan lagi WW bah kan..hehe)
Close up – atas meja. Notice my new novel? which one? Okay cari dari: tempat stationery, keyboard, novel – No Turning Back by Sarah Lewis. Yang dalam rak tu novel lama. Kira banyak lah juga. Yang masih di rak lain pun ada..:)
Oppss..kedapatan beFB sambil marking paper kan..:) time ini chatting with this blogger Portia Casadelarossa.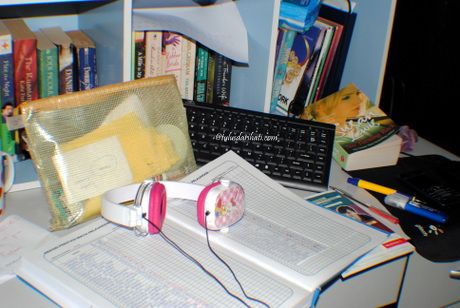 Kesian printer saya, kena jadi tempat letak2 barang: my new sling bag and student exam papers yang sudah siap di tanda. Haha, tidak perasaan ada losyen kena tidih bah..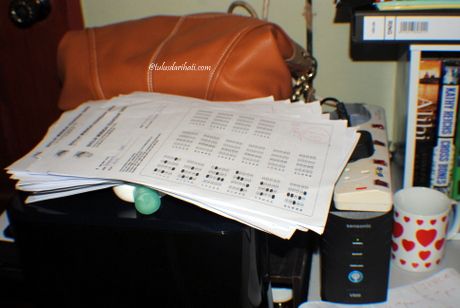 But usually I will tidy up my table (room) before i off to work so when I come back, sejuk saja hati memandang. Tidaklah tambah stress (sudahlah di tempat kerja stress, sampai rumah pun stress sebab bilik semak)
Happy Wednesday all.